The Library, in conjunction with St. Catherine of Bologna Photo, Art and Poetry Exhibitions curators, presents the sculpture of Jack Dykstra, now through October 15th.
The Many Faces Of Jack…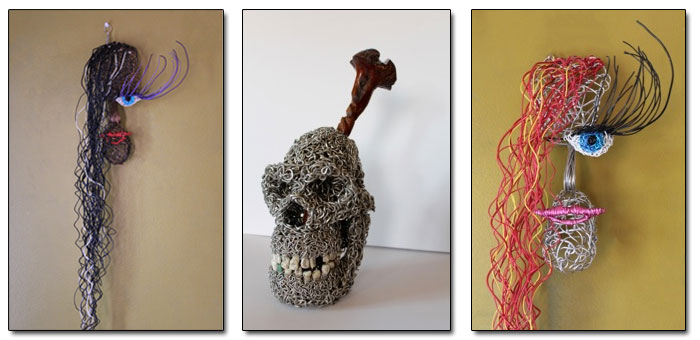 Jack Dykstra has been sculpting with natural woods, wire and metals for about twenty years. He enjoys creating unique characters and unpredictable creatures, very often depicting a little surprise or twist. Most recently Jack has been sculpting faces from a variety of metals and wires.
Each face has it's own personality and can invoke human emotion and often humor. It takes many hours of twisting and bending metals and wire to create details and effects that Jack is seeking. He has learned these techniques purely by experimenting with these materials in an attempt to give life to something that has been discarded.
Jack is a volunteer at the St. Catherine's Art Exhibition in Ringwood and has been active in the last three art shows. His metal tree entitled, "Hope" was given the honor of Best in Sculpture this past March. He is grateful to The Art Exhibition Committee and to the Ringwood Library for the support and encouragement of his work.