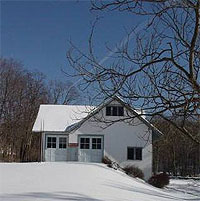 Charted by the State of New Jersey in 1966, Ringwood Manor Association of the Arts(RMAA) is a non-profit, non-political organization with over 250 members. Membership categories are designed to give all members a chance to participate in the organization, which is dedicated to providing visual arts opportunities for interested persons of all ages. RMAA has an international membership, with the majority of our members coming from Northern New Jersey and neighboring New York state.
AlAll officers and directors are volunteers who donate their time and energy to further the Association, as do many of our members. With its home in historic Ringwood State Park, RMAA an Officially Recognized Friends Organization (O.R.F.O.) of the NJ State Park System.
The Barn Gallery is located in Ringwood Manorís Carriage House, and offers a showcase for artists of all media. Presenting 6 exhibitions in 2015, RMAA always welcomes new members and artists.
Spring Fundraising Art Tours
April 1, 2017 - 10:30 AM & 1:30 PM - Ringwood Manor Park
The Ringwood Manor Association of the Arts in conjunction with Ringwood Manor is offering exclusive, small group tours of the Manor House Art Collection. The tours will focus on the varied Manor House collection which includes artists such as Hudson River School founder Thomas Cole. The cost of the tour is $20 and all proceeds benefit the non-profit Ringwood Manor Association of the Arts. Tour group sizes are limited. Advance Payment is required.